What:  "Overcome & Adapt:  The Ultra-Winning Mindset of a Marine Corps Combat Engineer". A motivational presentation by Marine Corps Combat Engineer Rob Jones.
When/Where: Thursday June 23rd, at Noon in the Lincoln Auditorium of the Idaho State Capitol, and Law Enforcement Appreciation Luncheon at 11:00am in the Capitol Dining Room.
Who:   Law Enforcement Personnel, IDOC Staff, Military Service Members, and Veterans.
Participating restaurants that will be serving food includes Luciano's, Uncle Giuseppe's, Tin Roof Tacos, Guido's Original New York Style Pizza, Big City Coffee, Deli George & Pastry Perfection.
Attendance and food is free, guests are welcome.
About our speaker:
Rob Jones is a Marine Corps Combat Engineer (Ret.).  As a 24 year old Virginia farm boy turned Marine Rob was tasked with locating IEDs in Afghanistan as part of Operation Enduring Freedom.  On July 22, 2010 while leading a patrol in Sangin Afghanistan, an IED found Rob…as a result, he lost both legs above the knee. Since sustaining his life altering injuries, Rob has become a prominent motivational speaker, a Medal winning Paralympian Rower, rode a bike 5300 miles from San Diego to Maine to raise money and awareness for Veterans, and made national headlines running 31 marathons in 31 days in 31 cities on prosthetics
Rob's message focuses on the following:
Overcoming & Adapting: His personal story serves as a prime example of turning lemons into lemonade through grit, determination, and goal setting.
"I can't vs. I won't".  Saying you can't achieve something is quite different than saying you won't try.  If you don't try, then how can you know that you can't? Rob teaches us to move past "won't" in order to discover whether you can or can't.
Choosing The "Hard Path" as opposed to the "Easy Path" in life.  The hard path leads to rewards, achievement, fulfillment, and long term success.  The easy path provides instant gratification but leads to heartache, disappointment, a lack of fulfillment. Rob continues to challenge himself on the hard path.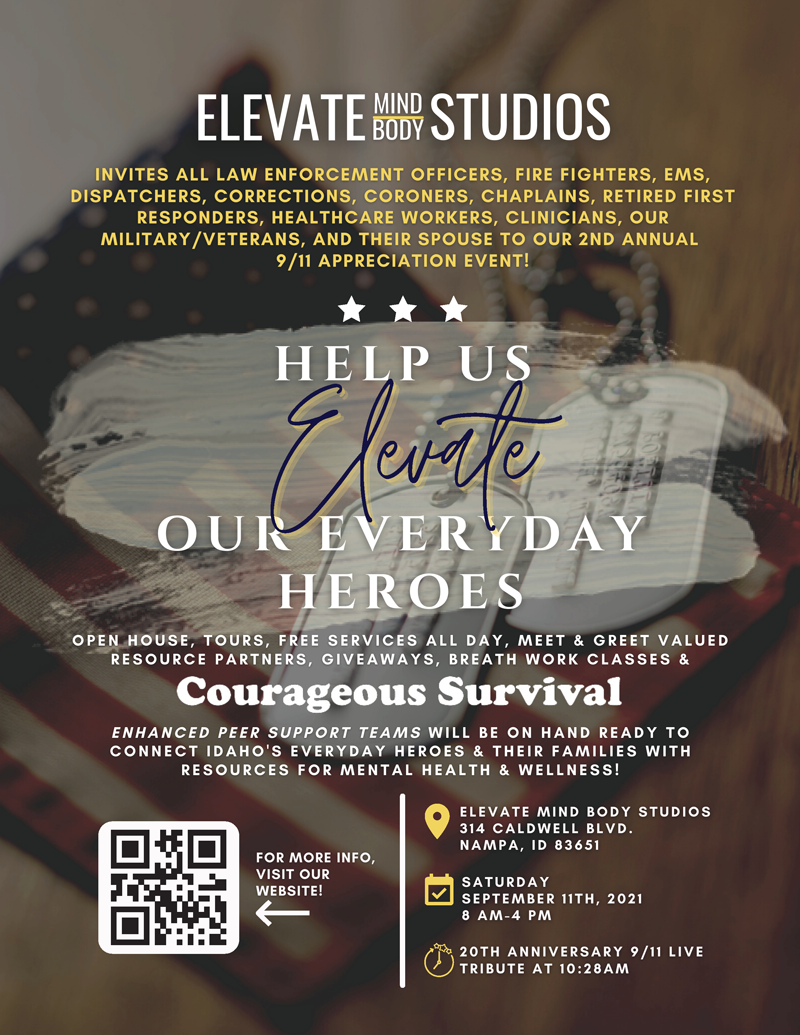 First Responders, Active Military, Veterans, and their spouses "Have yourself a Merry little Christmas" with FREE Red Light and Pain Light Therapy services on December 11th at Elevate Mind Body Studios!!!
Click on the video link to learn more about what this therapy is and how it can help with healing and restoring your health. Additionally, it will help boost your immune system, promote healing and regeneration at the cellular level, as well as help with maintaining your physical and mental health.  https://youtu.be/BBM93NosPFc
Boise Vet Center Outreach Program Specialist, US Army Combat Veteran Capt. Dan Ashley will be joining us to provide valuable services for veterans.
Courageous Survival will be there to connect our Everyday Heroes and their families with various other resources, VIP tours of Elevate's State of the Art Wellness Center and FREE Resource Guides will be available as well.
*Rotating services at no cost on the 11th of every month: Wellness Cocoon Sauna, Red and or Pain Light Therapy, and Dreamwave or Brio Massage Chairs.
*Including: Law Enforcement Officers, Fire Fighters, EMS, Dispatchers, Corrections, Coroners, Chaplains, Retired 1st Responders, Healthcare Workers, Clinicians, our Military/Veterans, and Spouses too!
Your service to our communities has not gone unnoticed. We appreciate everything you have selflessly done and continue to do in serving, THANK YOU! Your lives, your families & your stories matter!
Event link: https://fb.me/e/1VOKCASyz